Today's the day where I finally get to reveal what I've been hinting at for a couple of weeks now. The sweet Marie (a.k.a. Legojenta) e-mailed me after my appearance on the PTI podcast a few weeks ago with the idea to host a blog hop for young crafters. You see, Marie being 23 and me being only 21, we're kind of "odd balls" in the business. We love participating and people are very accepting of our ages, but it's not really the norm to be so "young" and we know others out there go through the same feelings sometimes.
So we decided to host a blog hop together that revolves around young crafters. What makes a crafter young? Well, it could be in age like Marie and me, it could be that you're young at heart and love crafting because it brings you back to the creativity and freedom of your childhood or it could even be that you're just starting out as a crafter and feel like a kid in a candy store. ;) We think that everyone is young in some way, therefore everyone should join in on our blog hop! It's time to show us what you've got!
Here's the official announcement graphic. Feel free to post about this on your blogs if you wish. The more people involved, the better!
The blog hop will take place on July 1st starting at noon CST, and signups to be a blogger close on June 27th at 11:59 CST. If you have other commitments and aren't able to post for the hop, you can always come back on July 1st to hop along with us and leave comments for fabulous prizes. (Both bloggers and hoppers will have separate chances for prizes.) Our amazing, generous sponsors for the hop are Simon Says Stamp, DeNami Design and Paper Smooches Stamps: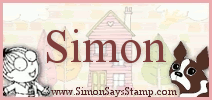 The theme for the hop is "Our Favorite Things," so we ask that you create a new project (scrapbook page, card, or other crafted item) using a favorite technique, color scheme, product, manufacturer, etc. for the hop and post it the morning of July 1st. After you sign up on the main blog hop page (youngcraftersunite.com), we will send you an e-mail in the next several days and then again about the 28th of June with more details and information.
So what are you waiting for? Add your info to the blog hop sign up list NOW. :)
Have any questions? Feel free to leave a comment here or on Marie's blog or send either of us an e-mail at britta.swiderski@gmail.com or legojenta@hotmail.com. Let me stress again that every crafter is invited to join in the fun and we hope to see you at the hop!
Love,
Britta