Here, you can see my current design commitments and accomplishments. Check out the links and feel free to e-mail me if you have any questions. :)
Professional Design Work
View my graphic design portfolio here:
I also occasionally work on freelance for clients. For more information on this, please e-mail me using the link in my sidebar.
(March 2013 – current) Marketing Manager position with Kelly Purkey.
(May 2013) Graduated from University of Minnesota – Twin Cities with a BFA in Graphic design.
(April 2012 – September 2012) Lawn Fawn Intern – worked with all LF employees to help complete various projects and designs. The majority of my work focused around CHA-Summer 2012 preparations, follow-up and promotion.
Organization
(August 2011-January 2013) Co-organized and launched Young Crafters Unite monthly challenges. I currently serve as the DT and sponsorship coordinator as well as am in charge of social media for the blog. We are currently on a haitus so that Marie and I can focus on our careers.
July 2011 – Co-Organized the Young Crafters Unite blog hop with Marie. View the archived list of blog hop posts here.
Design Teams
(Early 2012) Simon Says Stamp design team: I contributed videos, tutorials and projects to the main Simon Says Stamp blog.
(January 2011 – August 2012) Lawnscaping Challenges: They post 2 challenges a month based on a challenge theme and using Lawn Fawn stamps. I also made some of the challenge, prize and badge graphics for the site.
(June 2011 – May 2012) May Arts: Video tutorial Prima Ribbonista and post two videos to the May Arts channel + blog every month as well as contributing to special event weeks throughout the year.
(July 2011-December 2011) Simon Says Stamp Challenge: A weekly challenge blog with a new challenge every posted Wednesday. We use products from the Simon Says Stamp store and challenge you to play along with us every week!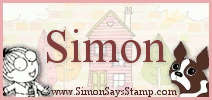 (July 2011-December 2011) DeNami Design Contributing Designer: I worked with DeNami's awesome rubber stamps in two product spotlights per month, a monthly challenge and several other opportunities.
Accomplishments
Featured on Lawn Fawn's Fawny Flickr Friday (June 10th, 2011)
Hero Arts Social Club (June 9th, 2011)
Totally Hues Challenge #6 top 5 winner (May 20th, 2011)
Finalist for the May Arts DT Call – Guest Blog Post (April 15th, 2011)
Spotlighted in Lawn Fawn's Fawny Flickr Friday Post (April 15th, 2011)
Guest Posted for Shimelle.com on "5 Ideas for the Martha Stewart Scoring Board" (April 4th, 2011)
Totally Hues Challenge #3 top 5 winner (March 21st, 2011)
Totally Hues Challenge #1 top 5 winner on Heather Pulvirenti's website (February 18th, 2011)
Hero Arts Fab Five Winner, Round 1 in January 2011.
(View the video where I made this card step-by-step here.)
Participated in the making of fabric flowers for Hero Arts at CHA – Winter 2011.
(Talked about here on the Hero Arts Blog.)
One of my cards was selected by Lawn Fawn to show in their booth and be in their catalog going out to retailers around the world.
Article Published on Scrapbooking.com entitled "A Year in Review"
(Detailed step-by-step instructions.)
Studio Calico Layout of the Week (11/06/10)
(Kelly Purkey used this layout as inspiration.)
Featured Stamper on Inspired by… by Jillian Foster (11/01/10-11/05/10)
(Day 1, Day 2, Day 3, Day 4, Day 5)
Two Peas in a Bucket Thinking Inking Week 5 Winner (11/01/10)
Hero Arts Social Club (09/30/10)
Hero Arts Social Club (05/13/10)
Two Peas in a Bucket Top Ten Favorite Scrapbook Products Challenge Winner (07/10/09)
Raspberry Suite Color Challenge #9 In the Spotlight (06/22/09)
Hero Arts Wrap-Around Card Challenge Winner (7/31/08)